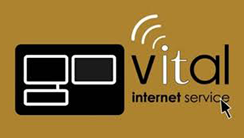 GoVital Wireless's Most Popular Internet Service Plans
GoVital Wireless's plans vary by region, so be sure to verify pricing and plan terms with them before ordering service as all plans or promotions may not be available in all areas or to all customers and can expire at any time.
---
GoVital internet service provides internet access at speeds up to 25 Mbps with data allowances that range up to 400 GB per month to business interests in and around Windsor. Its customizable plans allow the customer to decide how he or she would like to use the speed at any given time, on the upload or the download. GoVital's network is entirely wireless and covers most industrial areas of metropolitan Windsor. GoVital also offers web site hosting, network monitoring, web programming and other related services. Plans range from $109.95 to $329.95 per month depending on speed and size of data transfer.
---
Frequently Asked Questions for about GoVital Wireless